Online Health Marketplace Case Study: From Nowhere to Being Ranked #2 in Google within Four Months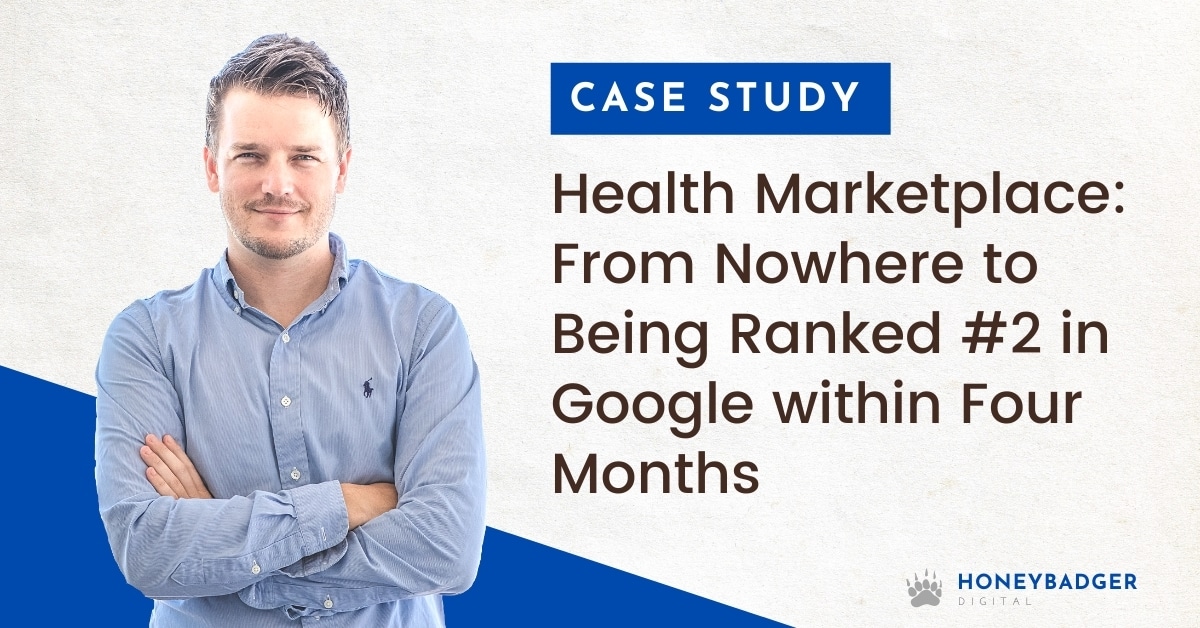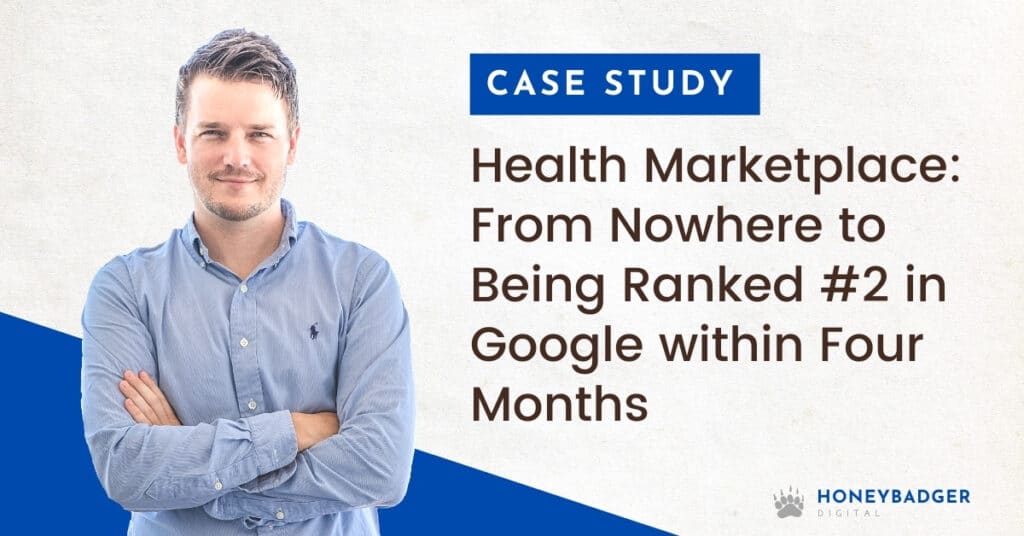 Imagine you run an online marketplace that pairs patients with medical professionals. The user can select the medical niche and location, and then a number of professionals that match their criteria are displayed for them.
Of course, you want to grow and expand your marketplace, but you don't want to pay $1 or $2 per click to Google AdWords to get new customers on an ongoing basis. That is simply not sustainable.
Instead, imagine you could rank well for "medical niche + city" and receive the traffic you want without having to jump through the often very tricky medical advertising rules that Google sets.
This is precisely what happened in December 2018, when a Swiss company approached us to rank them for one specific keyword that was very important for their revenue growth.
Within 3 to 4 months of working with us, they went from ranking #40 in Google to ranking #2.
Needless to say, they were pretty thrilled about this.
Read on if you want to learn how we approached the project and got them the results.
Project Background
We started working on the project in December 2018.

The client's goal was to attract more people to their "shop pages."

Their website had been around for a while and had authority. Through good PR work, they received many relevant backlinks from Swiss newspapers and industry websites. In other words: their car had a lot of horsepower, but they weren't using it to get where they wanted to go.

Their former agency had done some SEO work, but when asked if they expand beyond their blog pages (they were receiving decent traffic for random health keywords) and into their "commercial pages" — meaning "medical niche + city" — they were told by their agency that it is technically impossible to do this.

The client had a programmer that we could instruct and use for this project. For the copywriting, we used our in-house content producer.
In December 2018, they were getting no organic traffic for the keyword.
What we did / Our SEO Strategy
For any SEO project, it is so important that we get the analysis right. Our SEO process is structured as follows:
Keyword Research & Competitor Analysis

Technical SEO

Content Brief Creation & Creation

Link Building
These processes are all vital to achieve the best SEO results possible. Skip one, and the project might fail.
Here is what we did in detail for all processes:
1. Keyword Research & Competitor Analysis
Since the keyword that we wanted to rank for was clearly defined from the start, there was no need to identify other keywords. The keyword in question (psychotherapy + big Swiss city) had around 1.600 searches per month in Google.
We re-engineered the top-ranking results for that query (the competitor's websites) and came up with the best practices for our client's page that we would implement to rank them better.
2. Technical SEO
A website can have great content, but if, for example, it takes too much time to load on a mobile phone, then this is a bad experience for the user. Google rewards good experiences, and they are more than happy to give your site less organic traffic when it does not live up to its standards.
Here are the most common issues:
Slow loading time

Website is not optimized for mobile phones

Spam links that point to your site

Cannibalization (two pages compete for a keyword and ultimately both lose)

Thin content pages that do not add value to the user

Over-optimized pages and blog posts (i.e., mentioning the target keyword too often, thus making the text unreadable)

Innerlinking issues and/or broken links

Wrong multi-language optimization (if you offer content in different languages)
Since our project scope was rather focused, we looked at the most important 80/20 technical SEO indicators and ensured that everything was ok and that nothing would stand in the way of achieving what the client wanted. Among other things, we worked closely with the client's programmers to make the website load faster.
3. Content Creation/On-Page Optimization of Page
Essentially, you need backlinks and content in order to rank a website. The landing page in question didn't have either. The page that was meant to rank for "psychotherapy + city" only contained therapist profiles.
This is comparable to a category landing page of an e-commerce store that does not feature content at the end of it. The best example is probably zalando.de's shoe page: https://en.zalando.de/shoes/.
First, an above-the-fold wall of shoes: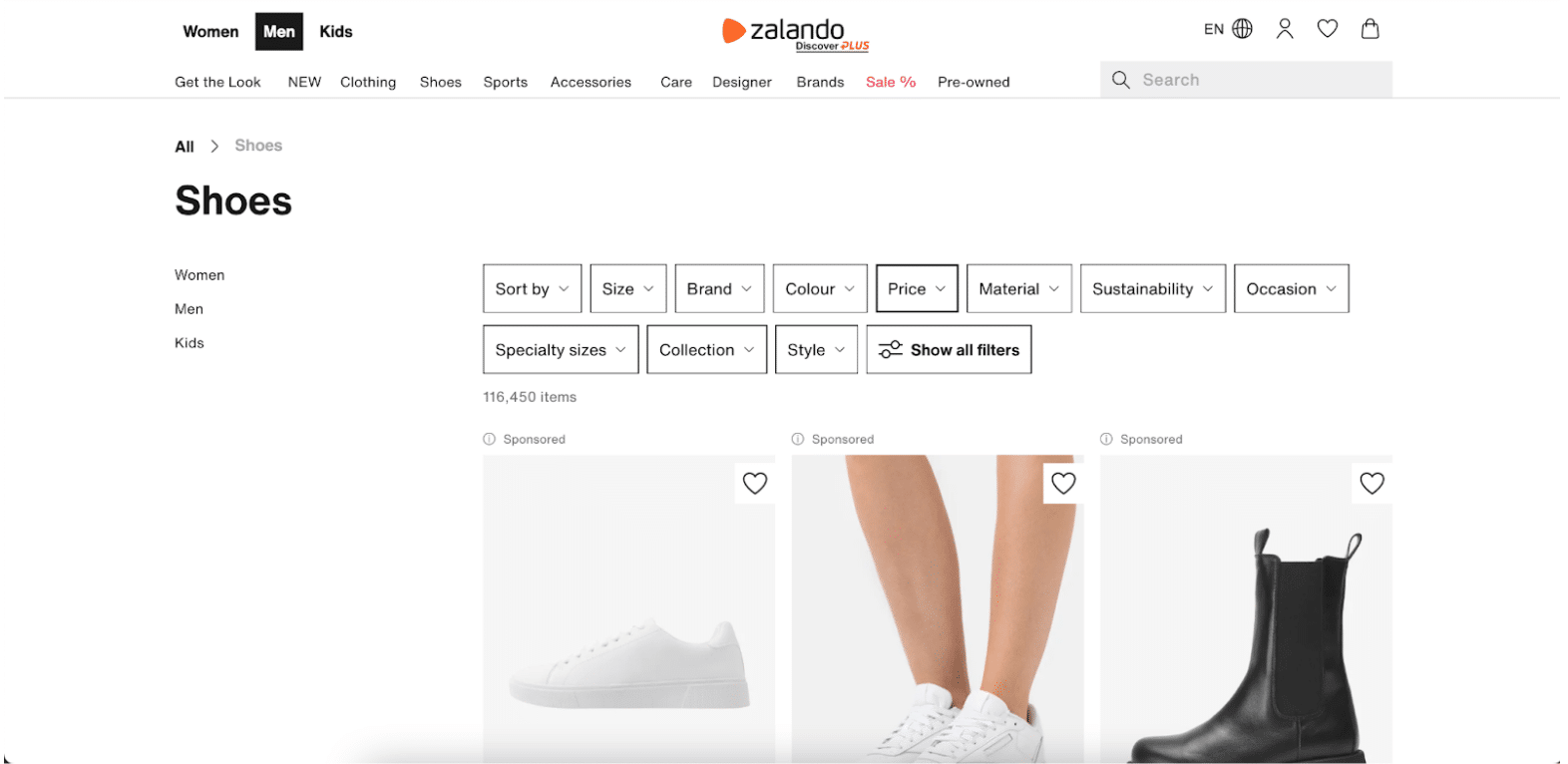 And at the very bottom, some — let's be honest — some BS text around the interesting topic of shoes: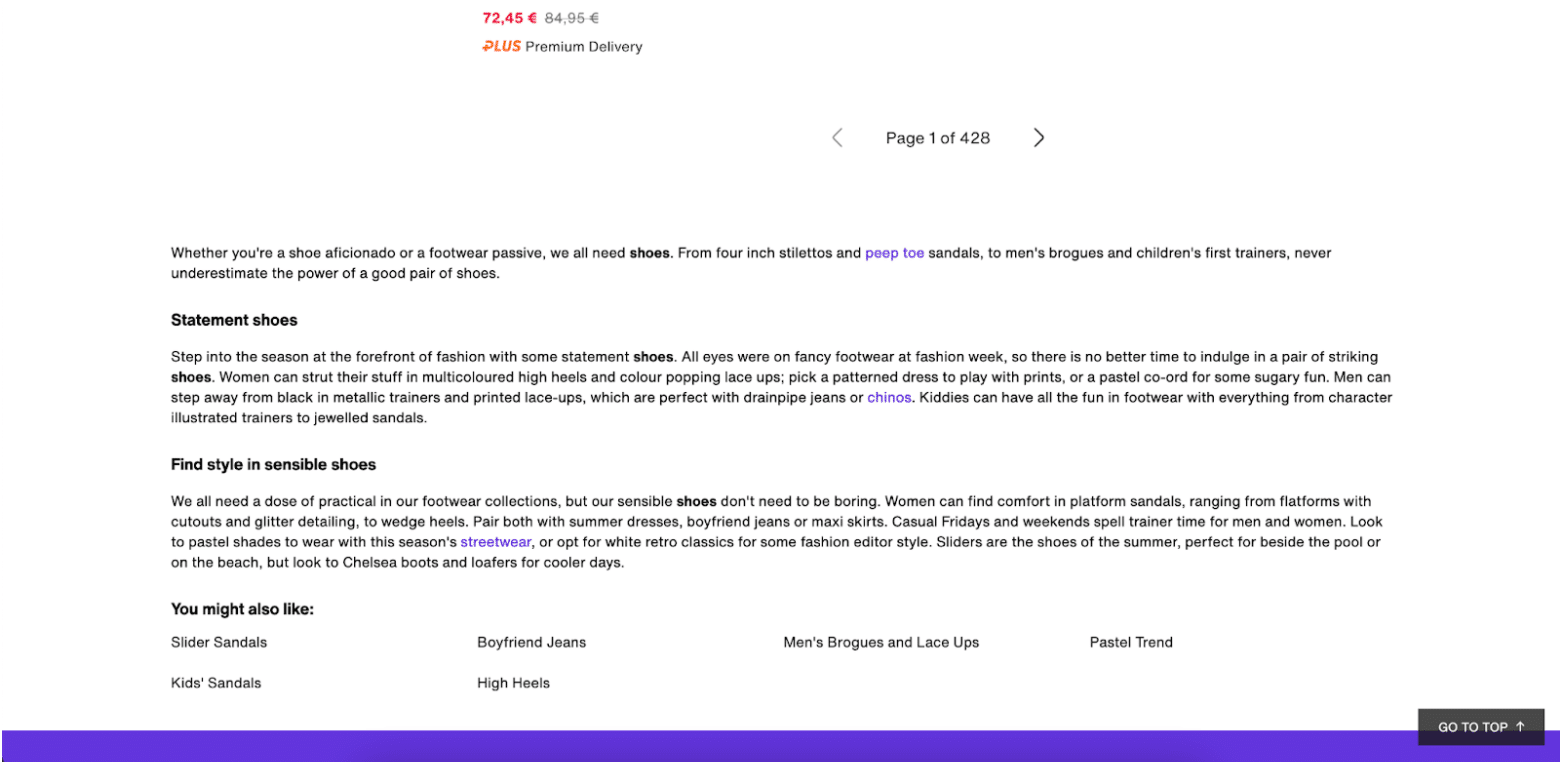 While Google advises putting some text at the bottom of commercial pages, it does need to be of value. The goal is to help the search engine understand what the page is all about so they can rank it in good faith.
We did the same kind of thing for our client. The technical implementation was not that straightforward and took a while. In the end, we decided to add a floating element that had the size of a therapist profile that contained FAQs that were relevant to the topic of psychotherapy.
One headline was, for example: "What is Psychotherapy and How Does it Work?"
We also optimized one picture's alt-tag to match with the target keyword.
Content Silo/Supporting Pages
Imagine there is a dental website that only contains a homepage and some service pages. Then, imagine there is another dentist who also has a homepage and some service pages — and on top of that, 30 articles that are highly relevant to the topic of dentistry and deliver a lot of value to (potential) patients.
Which site do you think Google is more likely to rank higher? 
You guessed right, the second one.
It is not enough to rank for "psychotherapist + city." You also need to build so-called supporting pages that link in a strategic and optimized way to the target page you want to rank for. We researched relevant topical keywords and wrote ten articles that we posted on their blog.
For example:
What is psychotherapy?

What does a psychotherapeutic session cost?

10 things that you should know before you see a shrink

And so on…
From every one of these pages, we innerlinked with a strategic anchor text ratio to the main page (psychotherapy + city). Let's say you write five articles, and you want to rank for "psychotherapy new york." Then we would use the following anchor-texts to link to our "main article":
Psychotherapy in New York

Looking for a good psychotherapist in NYC

Best psychotherapist in town

Brand Name + Psychotherapy New York

Learn more here
If you always interlink with the so-called exact match anchor of "Psychotherapy New York," Google would smell over-optimization. Instead of ranking the page better, they might end up punishing you and sending you less traffic. This is even more important when building external links since Google can be a lot less tolerant with those than they are with innerlinks.
4. Link Building
Since the website had been around for a couple of years and had naturally received many strong and legit backlinks already, there was no need to "strengthen the domain." Instead, we could focus all our attention on the pages we wanted to rank.
First, we sent a round of social signals (Pinterest, Quora, Facebook mentions) to the pages in question. Doing this shows Google that some social buzz and social sharing is going on, which helps to legitimize the occurrence of new backlinks.
Then, we built some no-follow links from forums and blog comments by hand to make the link profile look more natural. After this, we commissioned some high-quality guest posts from websites that were topically relevant to the health/therapy niche. Once the posts were done, we powered them up with some tier two links. That means we sent links to the links (the guest posts) we had just built.
We also had to consider the so-called link velocity. That just means that we intentionally dripped out the link building over time so that not every link arrived at the page simultaneously. Google knows that all those links appearing at once organically is about as statistically likely as Donald Trump turning into a peaceful monk overnight.
Finally, we also built out some links to the supporting pages. Because each supporting page linked back to our main article, the "link juice" could flow and power up our main target page through the backdoor. This is a technique we love to use with our e-commerce clients because it looks so much more natural if you have a blog post that's called "best mobile phones for elderly" than a single product page called "Nokia 3377 Elderly Phone."
Let's look at the results.
Results
After around one month of adding the additional text on the landing page, we could see some first strong movement on Google. Since the backlinks need time to build, there is always a lag. So the actual results kicked in around month three.
After three months of work the page jumped to #2 in Google Switzerland. The traffic that this page alone attracted went from basically 0 searches per month to around 120.
The client was happy to see these results.